Bumthang to Mongar
After an early breakfast we gear up for a thrill-ride 127 mile all day drive from Jakar to Mongar on the National Highway. This is the longest drive on the tour. Each car will carry a picnic lunch, with tea/coffee breaks along the way, usually in the high passes. Along the leisurely route there will be plenty of time to make frequent stops for photo ops and we should make it to Mongar in time to roam the streets and interact with locals. The journey takes us through mist-covered ThumshingLa Pass, which at 13,500 feet is the highest motor-able pass in Bhutan. On the eastern side of the pass the three-hour drive plunges down through a sunless forest almost 10,000 feet! to the village of Sengor. Then after a few miles of level road we plunge again through what is considered by many to be the most "white knuckle" 12 miles of national highway in the country. Here the road was blasted out of sheer cliffs with a guard-railed edge that drops clear out of sight. You will notice that there is very little traffic on this stretch of highway because only 200 tourists per year go beyond Bumtang, truly the road less traveled. Just go to the first page of my web site and look for the YouTube video with the first image that of a truck. Click it on and hold on tight. In Butan the joke is, "Please fasten your seatbelt to make it easier for the police to find your body."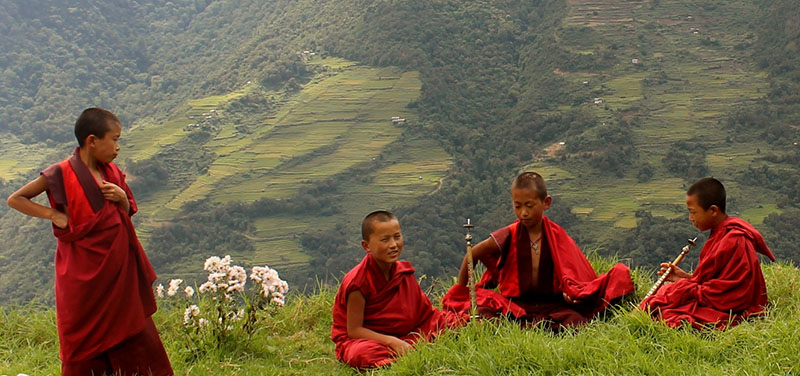 After crossing the bridge over the Kuru River, 15 miles further on the climbing twisting road, we come to the ancient trade route stop of Mongar. Since the area is very mountainous with few valleys, Mongar is built on the side of a mountain. The true homeland of the Eastern People, the Sharchogpas, begins from Mongar. We will explore the 19-century Mongar Dzong and overnight in the Hotel Wangchuck, the classiest place in the entire district.
Overnight Hotel Wangchuck for two nights. Laundry available if you leave it upon arrival.