Tiger's Nest and Paro
Something that we just changed on the itinerary in spring 2016 is a pre-dawn hike to Tiger's Nest to avoid the crowds and heat and watch sunrise over Bhutan's most famous and scenic icon.  After a one-and-a-half strenuous hike led by our guides and drivers wearing headlamps, we will be served a hot picnic breakfast as we look across the chasm to young monks lighting morning incense fires at Taktsang Monastery, dubbed Tiger's Nest because of the legend associated with it.  Then at 9 a.m. we will climb down and up the 1,000 stone steps to visit the monastery.  This very early hike will most likely be made by just our group since the tour buses don't start to show up until around 9 a.m.  On average, 1,000 tourists a day hike to Tiger's Nest and the parking lot is packed with buses, noisy tourists scare off the birds, monkeys and goats and the sun causes you to peel off clothing as the trail is not in a forest but rather out in the open sun.  (Please see Robin's story on Tiger's Nest for Tashi Delek Magazine, the in-flight magazine for Royal Druk Air, posted on the Rainbow Photo Tours web site.)  We will have our guides and drivers one-on-one to carry our gear and urge us on.  An important place of pilgrimage and refuge for more than 1200 years, Taktsang Monastery clings to sheer cliffs two thousand feet above Paro Valley, and from the most popular vantage points on a rocky ledge directly across a chasm from it we will still need a 200 mm lens and a steady tripod to get tight photographs. As of 2004, after the rebuilding from a fire, foreigners have permission to hike all the way to Tiger's Nest, visit some of the altar rooms and maybe get a grand tour from Lam Renzin, the lama stationed there. We have become friends with Lam Renzin, bringing him gifts such as a Swiss Army multi-tool, saffron colored wool hat and in 2007 he requested we bring him a pair of binoculars to see who is coming to visit Tiger's Nest--Robin delivered them in 2008 and they are sitting under his desk at his open window.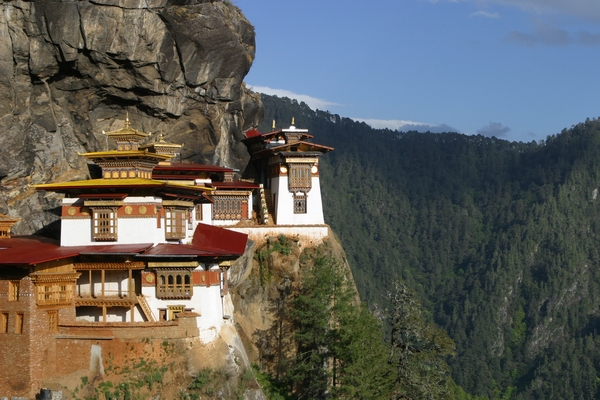 This sacred place got its name when Guru Rimpoche rode there on the back of a flying tiger and meditated in a cave behind the present-day monastery. Sadly, in 1998, the central temple was destroyed by fire, leaving the country in mourning for their holiest of spiritual places. But religious leaders and the King quickly developed a plan to rebuild Taktsang and donations poured in from Buddhist centers all over the world. Today, the magnificent temple is completely rebuilt to its original glory. Tiger's Nest is once again the subject of cloud-shrouded posters that say, "Bhutan, Land of the Thunder Dragon."
After we descend to the base of Taktsang our cars will take us back to Nak Sel by way of any place around Paro that you might have missed on arrival day.  Tonight would be a good night to luxuriate yourself with a hot stone bath and massage and then walk down through the authentic Bhutanese cluster village just beneath the resort, interacting with kids playing in the street.
Dinner and overnight: Nak-Sel Resort